Administrator – Kelly McPherson
Counselor – Shannon McCormack
Sponsor – Jamie O'Leary
STUDENT COUNCIL OFFICERS
PRESIDENT: Wesley Scherber
VICE-PRESIDENT: Swayer Schrader
SECRETARY: Cooper Krinn
HISTORIAN: Kendall Johnson
Follow the Class of 2024
Twitter @Rrhs2024
Instagram @rrhsco24
SENIOR PHOTOS

Seniors have two options for their YEARBOOK senior photos. To be published in our yearbook a headshot MUST be taken either at school OR at the Gigante Studios. The option to have the photo taken at school will ONLY be a headshot in a tux or drape that will be provided. This will be a $5 sitting fee and will also be available for purchase. If students want to get a full senior session they can go to the Gigante studio in Wesley Chapel. An appointment can be made at giganteproductions.com  This will be a $15 sitting fee. NOTE – students will be getting a photo in their cap & gown with all of their cords/sashes/diploma at graduation.
FOR THE AT SCHOOL OPTION – CHOOSE A TIME THAT IS NOT DURING A CLASS. If you cannot attend your appointment time PLEASE adjust your appointment time or stop by his room to let him know. Failure to "no-call, no-show" for your appointment time twice means you will have to go to Gigante for your session.
Cost for in-school photos is $5
MALES – we will provide the tux jacket, bow tie and jacket. PLEASE wear a PLAIN white shirt for underneath
FEMALES – we will use a drape, so wear a shirt/tanks that allows you to drop your straps to ensure clear shoulders
SENIOR DEDICATIONS
Please ensure you are submitting your form and making a payment at the same time via Rycor/StudentPay  THERE WILL BE NO REFUNDS IF BOTH PAYMENT AND ORDER ARE NOT RECEIVED BY THE END DEADLINE AS WE WILL BE SAVING A SPOT IF EITHER IS SUBMITTED.
Please ensure your digital photo submissions are of the highest quality possible. We will not be responsible for low quality publication if low resolution photos are received. If it is too low we cannot publish. If you purchase a full page the main photo may be taken for you at request. For ANY questions or clarification please email Mr. Carlson at mcarlson@pasco.k12.fl.us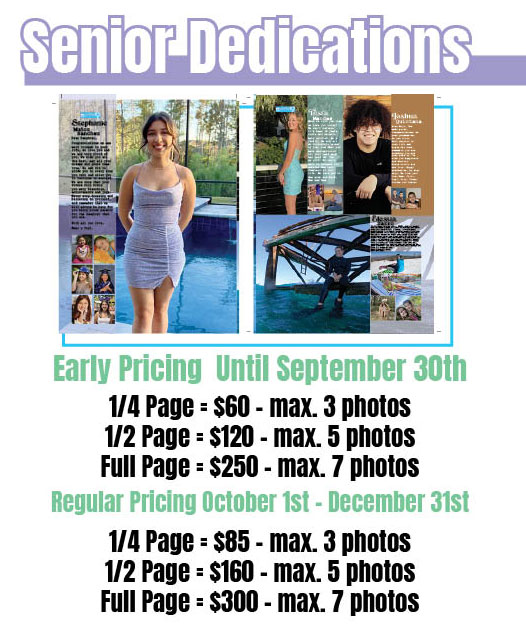 SENIOR NEWSLETTER