MEET YOUR 2016-17 LADY KNIGHTS GOLF TEAM
Follow us @RRHSGirlsGolf
Contact Coach Laine Smith at lwsmith@pasco.k12.fl.us
Nichole Celotto ('17)
This is my second year on the golf team and so far I am really enjoying this season. I have improved on my skills since last year. My favorite thing about being a part of this team is we all really enjoy playing together and we always have lots of fun. Being a part of this team is definitely something I will always remember from high school. If I could have changed one thing about being a part of the team, I would have started playing earlier so I could have been really good and maybe even tried to get a scholarship.
I would also like to thank all of the ladies form the RR Country Club that donated our uniforms and new golf bags this year. Thank you to Coach Smith and Dale for helping me improve on my individual skills and having fun at the same time. We couldn't have done it without everyone.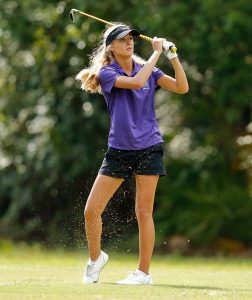 Ally Clingenpeel ('20)
Ally has been playing golf for about two years though this year was her first on the team. She joined the team in order to become more active in the school and because she enjoyed playing golf.
Clingenpeel originally started playing golf with her brother because he had been playing and she thought that it looked like fun. She enjoyed her time on the team and liked all of the girls on the team.
Clingenpeel enjoyed driving the most though she also enjoyed using her 5 irons and pitching wedge. Her pitching wedge can go a distance of about 100 yards. Her least favorite thing to do is putt. Her putter also happened to be her least favorite club to use.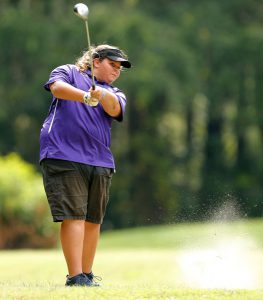 Kendall Hill ('19)
Kendall is in her second year of being on the Varsity Girls Golf team. Hill's favorite thing in golf changed from at one time being her driving to putting.
Her go-to club was her five hybrid because she could use it anywhere and it always got her out of trouble. Before, her favorite club was her driver but she decided she would rather use the clubs that would help her out.
Hill joined the team her freshman year to continue to play a sport she had already played for some time. Ever since she could walk, she had a club in her hand. "I've always been around golf with my dad working at different courses his whole life and me always wanting to be part of that sport," Hill stated. She took up the sport first just for as hobby then thought it would be good to join a team that revolves around the sport she had played her whole life.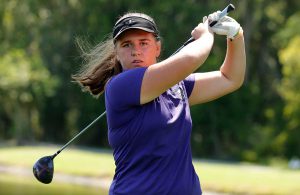 Samantha James ('17)
James started playing golf over the summer. James decided to start playing golf because this summer she wanted to start to play some kind of sport and even took lessons. She joined the girls golf team when she talked to Coach Smith and Smith asked her to play since she found out that James had started playing.
James enjoyed being on the team and playing with the other girls. James has improved a lot since she has joined the team much like the other girls had.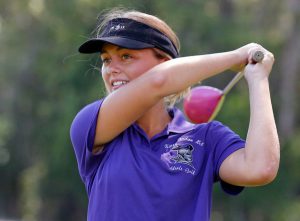 Erin Johns ('18)
Johns has played golf since the team was re-formed in her freshman year. The year before, the golf team had been disbanded due to a lack of interest and players. In 2014, the team reformed with Mrs. L Smith as the coach.
Johns joined the team because she was looking for a club or sport to join that not everyone knew about or was in. Before starting golf when she was a freshman, Johns had never picked up a golf club before let alone played golf. Throughout her years playing, Johns felt that she had improved immensely.
This is Johns' third year playing golf and her third year on the team.  "The team has gotten a lot better over the years and even since the beginning of this year." Johns looks forward to the season still ahead of her.
Johns enjoys using her driver as well as her 4 hybrid, which is a club that is a cross between a wood and an iron, though she is not a fan of putting or chipping.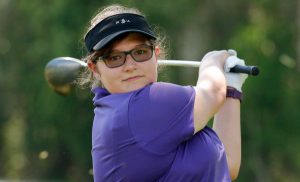 Hailee Wenderoth ('18)
Wenderoth has been playing golf for about 2 years. She had never even thought about playing until her family brought it up and got her into it. Wenderoth has loved playing ever since. She joined the River Ridge golf team as a way to play a sport besides soccer. Wenderoth's favorite clubs are her 5 and 7 irons though she enjoyed putting and chipping because "they are my most consistent shots." Her least favorite shot were her drives because she has not been comfortable with her drives.
Over the summer, Wenderoth participated in a golf summer camp where she golfed at Chi Chi Rodriguez Golf Club and she has enjoyed playing there since.
Wenderoth's favorite part of being on the team was practicing with her teammates because they all had a lot of fun together. One thing she would have changed is her confidence during matches.