APRIL 9
Hello Royal Families! By now, you should have received quarter 3 report cards. Please take some time to review grades and especially focus on looking at attendance. It is very important that your student attend school every day to ensure a connection to instructional material. Missed instructional time prohibits academic growth.
I would like to congratulate to RRHS Robotics Team for their Regional success in Texas, they will be advancing to the World competition for the 2nd year in a row.  Please see the story and view the photos here.
We would also like to recognize the New Teacher Academy, ROTC and especially Interact Club students for their community support at the Chasco boat parade. It was an awesome day of volunteering and building relationships with the community. I also want to extend congratulations to Zac Vanlangendonck and Connor Beckman who raised $3,000 in their Royal Relief Race to support Hurricane Relief efforts along the West Coast of Florida.
Prom tickets go on sale next week. Please be sure to read and review the prom ticket purchase rules carefully. Students not meeting attendance requirements will not be permitted to purchase tickets and those that accrue unexcused absences after the purchase date causing them to exceed the 10 days maximum in any period, will not be permitted to attend prom. No refunds will be given. Prom appeals for students on the "no sale" list will occur in April. The deadline for appeal is April 24th at 2pm. Email appeals will not be accepted. All prom appeals must be turned in to Student Services in writing. Final decisions will be made by April 27th.
_____________________________________
MARCH 10
Spring break is ALMOST here! Let's all make this last week of the quarter a successful one! Please take some time to look over your students' attendance and grades in My Student to be sure there are no surprises on their upcoming report card. It is extremely important that your student attend school this week as the four days prior to Spring Break are the last few days of the quarter. Several important assessments are happening this week. Please also take some time this week to check the school website for important end of the year information for all students (especially seniors).
On March 14th RRHS will host an informational meeting for the parents and guardians of ESE students that are in self-contained programs. Special Guest speakers will have information for parents/guardians regarding applications and opportunities to develop skills needed to improve quality of life and increased independence. The evening will begin at 5:30pm in the cafeteria. If you have any questions about the event, please contact Ms. Sullivan at RRHS. RSVP is required for this event.
This week RRHS Thespians are attending States in Tampa and we are looking forward to hearing about all of their accomplishments! Keep an eye on Twitter to see how they do at States.
I want to congratulate the River Ridge High School Symphonic Band on its wonderful performance this past weekend, as we hosted the District 5 Concert MPA. The RRHS band received an EXCELLENT (second division) rating by all three stage judges and a SUPERIOR (first division) in sight-reading, resulting in an overall EXCELLENT rating. It is the band's highest overall rating in five years, and the band achieved its first SUPERIOR rating in sight-reading since 2011. #RoyalSound
I hope to see you all Monday evening at our RRHS Panera fundraiser! Please stop in between 4:00-8:00 and show the flyer posted below. The proceeds from the event benefit students and teachers at RRHS!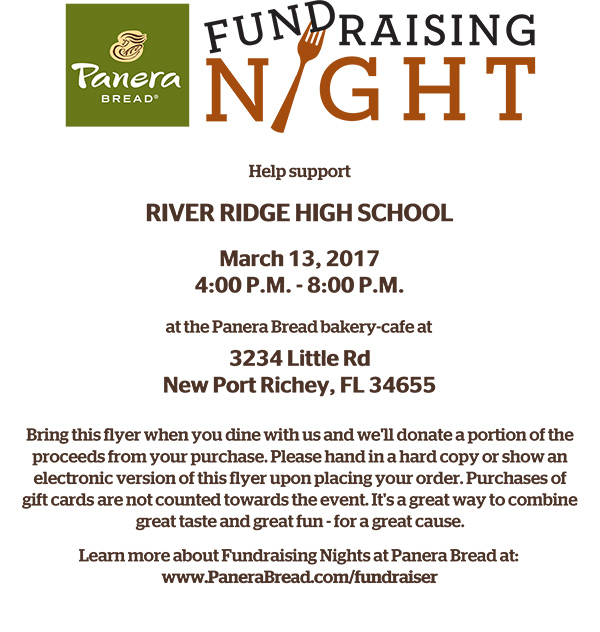 _____________________________________________________________
MARCH 3
As we spring into the Month of March the Royal Knights are not slowing down! We have started our FSA testing season and students are working hard to achieve as they complete state assessments. It is extremely important that students attend school on their designated testing days to ensure completion of these important assessments. Please encourage your student to arrive on time and ready to tackle the assessment like a #Royal.
Please mark your calendar and plan to attend our Panera Fundraising event at the Panera Bread in Mitchell Ranch Plaza from 4:00pm-8:00pm. We will post the flyer on our website and on Twitter closer to the event. The flyer must be presented at the time of purchase to support RRHS! We hope you will skip cooking on Monday March 13th and support RRHS!
This past Friday was a really fun afternoon on our campus as we celebrated our #RoyalAchievers and hosted a photo booth as an incentive for advanced placement students who are maintain passing grades and excelling in their rigorous courses. If your student is interested in taking AP courses in the upcoming school year please remind them to complete and turn in their AP agreement!
Each year RRHS hosts the NW/SW Regional Special Olympics and we always look forward to sharing our campus with the athletes from other schools and their families. Each year brings new friendships, new learning and an opportunity for our #Royals to volunteer their time to support the event. All of our volunteers did an amazing job helping with the Special Olympics, but we would like to personally recognize Haley Prudhom, Noah Brown and Autumn Bowman who went above and beyond making such a memorable experience for a young man that his family asked that we recognize these #Royals! This is an excerpt from a letter we received from the parent of a Special Olympics student athlete: "three of your students showed patience, time, and kindness without hesitation…These wonderful students made a difference to my son's day and I feel that they will impact our future immensely." We are so exited to recognize our student volunteers! Way to go Haley, Noah and Autumn!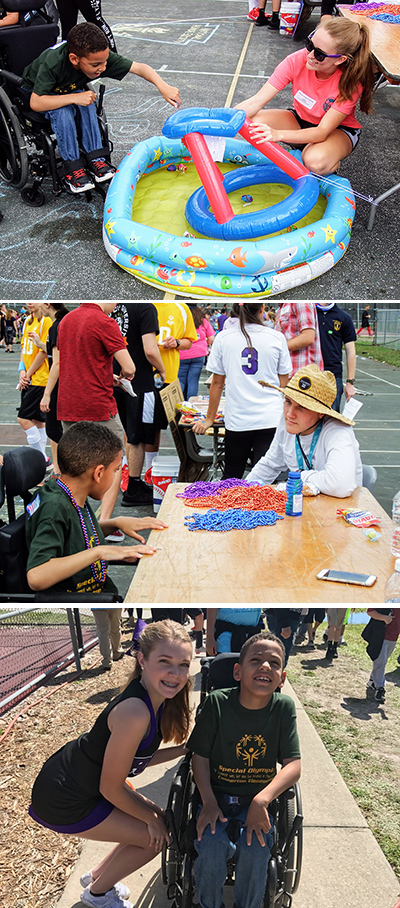 This weekend our Robotics team will head to Orlando for their regional competition- Best of luck #RoyalRobotics!
We would like to give a special congratulations to Natalia Zakiewicz, Kaitlyn Shaw, Zoe Campan and Thomas Gallup who have placed in the top 10 for FBLA State Competition. We cannot wait to see what you accomplish at States!
In spring sports the Varsity Girls Softball team beat LOLHS 2-0. LOLHS was ranked as the top softball team in the Tampa Bay Area! Our boys Weightlifting took 2nd at the Sunshine Athletic Conference Meet at Fivay High School and we are so proud of their hard work and dedication! We are looking forward to a great week! #WeAreRoyal
COMING UP ON CAMPUS:
Monday March 6th
Adult Education 2:05
Tuesday
Ted Talk Training Session 2 @ 2pm Bldg 3-222
Girls Softball hosts Anclote High School
Boys Tennis hosts Pasco High School
Wednesday
RRHS host the Boys District Weightlifting Districts
Girls Tennis hosts Wiregrass High School
---
FEBRUARY 24
There are so many amazing things happening at River Ridge High School! In an effort to keep our #RoyalFamily informed we want to try to share with you the highlights for this week. Our hope is that you will check the website frequently to stay informed.
I want to congratulate our FIRST Robotics team that had their "Stop Build" day on 2/21 and have built a robot that we are proud of.  We hope to have a repeat at the World competition again this year.  For more details about this amazing event, please visit http://www.firstinspires.org/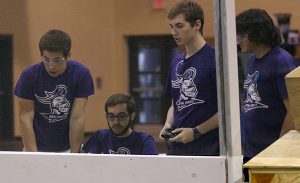 Congratulations to our Color Guard who placed 3rd in their division and 5th overall at their competition last Saturday.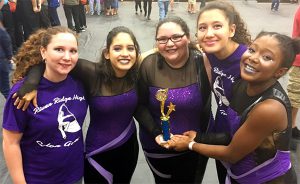 Our boys and girls track teams both placed 2nd out of 8 teams at the Anclote Track Meet and hosted a successful dual meet with Gulf and are off to a great start to the season! At the Anclote meet Stone Baker set a school record pole vault at 15'5″.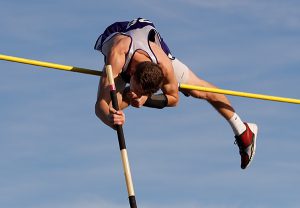 A big thank you to all of the families that came out to Royal Family Knight on Wednesday. It was a great event that allowed us to share useful information with families and review information related to course selection. We love seeing our students and their families on campus! In case you missed it
We would also like to extend a huge thank you to all of the people that helped make Royal Family Knight a success; Mrs. Peterson, Ms. Owens,  Mr. Carlson, Coach Degennaro, Ann LaRoue, Mrs. Hallwas, Ms. Smith, Mrs. Evans, all of our amazing counselors, custodial, and theater staff.
This week students went into the computer lab to enter course selection during math classes. Students were able to make selections via the My Student Portal. Students that do not have a math class on campus should turn in a course card to their school counselor. A reminder to upcoming seniors: Senior 7th period lunch applications should be turned into Student Services. All students taking AP courses need to have AP Agreement submitted to guidance. All required forms can be found on the Registration page. A huge thank you to Dominique Gonzalez, Kristina Wilson, Alicia Owens, Andrea Makris, Shannon Cordero, and Lisa Aitken for making course selection a smooth process! Please continue to reach out to our counselors should you have course selection questions! You may find their contact information on the School Counselor page.
A reminder to seniors and parents of seniors to keep track of rapidly approaching deadlines at the Class of '17 page and to be sure to save money on your yearbook order by purchasing one for just $55 until March 16 (price goes up to $70 upon delivery, with no guarantee any will be available if not pre-ordered)
Upcoming Events:
The FSA writing begins this week – students have received their scheduled times individually
February 28: Ted Talk session 1 Training in Media center 2-3
March 3: Advanced Placement #RoyalAchievers Photo Booth Celebration in Media 10-3 (ALL ELIGIBLE AP STUDENTS WILL RECEIVE PASSES)
For a full schedule be sure to check our online Calendar.