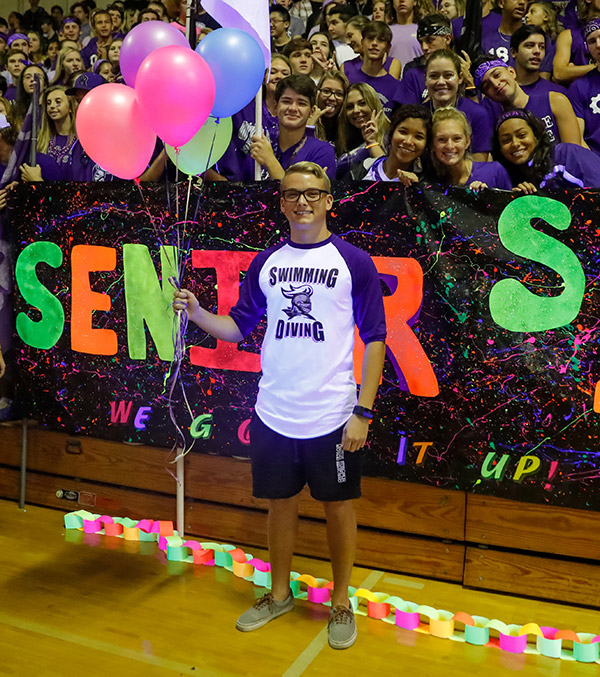 During a special black light pep rally, Connor Beckman was announced as the Outstanding Senior of 2018. He was chosen by the teachers from a group of ten students the student body nominated as extraordinary achievers.
"It feels really good, especially getting the same distinction as Allysa [Allen, Class of 2017] last year because Allysa was really impressive. The ten itself was ridiculously competitive, everybody was super qualified for this distinction. Beyond that, there were way more than ten seniors who were qualified, so I'm really honored to be picked," Beckman discussed.
From the group of ten, Beckman was selected by the staff and faculty as truly exceptional. "I think it's cool both ways: getting picked by the students and then the teachers. At least for the teachers I got to put together that paragraph about me, but the students themselves just came from them knowing who I was. It makes me feel good that people know what I do," he shared.
Beckman is currently in charge of River Ridge's Air Force JROTC program as the Corps Commander, where he oversees and manages all 166 cadets. He is also the President of the National Honor Society; here, he leads "all the super smart people" in furthering their involvement in the community. "I organize and make sure we get all the tutors for everybody that needs them and take care of the school," Beckman explained.
Additionally, Beckman is also the captain of the swim team, and is leading his team through districts. Finally, Beckman is also the alumni of Boy Scout Troop 77, where he has earned 53 merit badges through six years, and has also earned the highest possible rank of Eagle Scout along with three Eagle Palm awards. Last school year, Beckman co-organized the first ever Royal Relief Race which raised four thousand dollars for the American Red Cross's Natural Disaster Relief Fund.
Looking forward to the future, Beckman is in the process of being accepted into the United States Military Academy at West Point. He plans to major in either Chemistry or English and plans to move forward to medical school in hopes of becoming a medical officer in the U.S. Army.
Congratulations as well to the other seniors nominated:
Joseph Alfonsi
Garry Bowden
Emily Castro
Gavin Dearsman
Jacey Hanley
Anthony Kendall
Jessica Linares
Michael Roussos
Kaitlyn Shaw