Administrator – Ron Bruno
Counselor – Kristina Wilson
Sponsor – Joclyn Kidwell
PRESIDENT: Noah Miller
VICE-PRESIDENT: Nicholas Clohessy
SECRETARY: Mindy McLarty
HISTORIAN: Nathan Merritt
Social Media:
REMIND: @rrhs23e to 81010
Twitter: @Royal2023
SENIOR QUOTES
Senior yearbook quotes are due by FRIDAY, MARCH 10 at 1:30pm. Submit them here
CAP, GOWN AND OTHER SENIOR ITEM ORDERING INFORMATION
Seniors had a presentation about ordering caps, gowns, announcements and other senior items. They SHOULD have brought home order forms they were given. If they got lost the forms and ordering information can be found at https://herffjoneswestcentral.com/
If you don't order by March 1st, a late fee will then be added to the order. If you wait too long, you may find yourself having to go to ST. Petersburgh to pick up your gown as they will not deliver it to the school after a certain date. Don't wait to order your gown, get this taken care of as soon as possible.
SENIOR PHOTOS
Senior yearbook photos are complete. Students had from June until December 14th to have their photo taken at the Gigante Studio, as well as an option to have them taken at school every day for 11 weeks, ending December 14th.
SENIOR YEARBOOK DEDICATIONS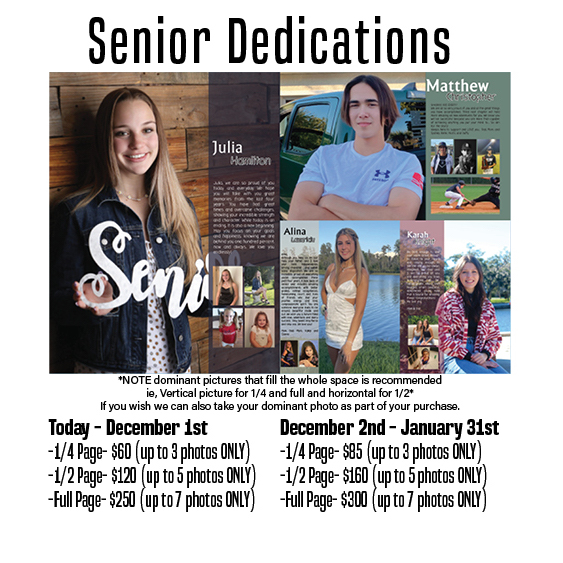 Senior Dedications are NOW FOR SALE! We have shifted to do everything online, so orders can be made at this link and paid for through Rycor/StudentPay. PLEASE NOTE – to receive the discounted price the FULL order must be submitted (payment, information and photos). Please reach out to Mr. Carlson for any questions/clarification/help.
GRAD BASH
Grad Bash documents coming soon. Grad Bash date is April 22nd. Payment will be $160 in full or Payment #1 ($80) due Feb 10 and Payment #2 ($80) due March 10. As of now we are on a wait list for all students that want to attend.  If you decided to pay over 2 payments, payment #2 is due by March 10. Payments can be made on Rycor or you can also go right to Mrs. Kidwell in 3-210 with cash, check or CCard. https://www.studentquickpay.com/pasco/
All partial payments must be made by March 10th or you will lose your spot on this trip.
What's Left?
• Cap and Gown $30
• Senior fees (diploma, diploma cover, USF rental, medallion, academic cords, senior breakfast) $90
• Yearbook $70 (if you wait until the end – buy at yearbookforever.com NOW to save money!)
• Prom $85 (approx)
• GradBash $160
**These are just estimates based on what they have cost in the past, but gives you an idea.**