Administrator – Ron Bruno
Counselor – Kristina Wilson
Sponsor – Joclyn Kidwell
PRESIDENT: Noah Miller
VICE-PRESIDENT: Nicholas Clohessy
SECRETARY: Mindy McLarty
HISTORIAN: Nathan Merritt
Social Media:
REMIND: @rrhs23b to 81010
https://www.remind.com/join/rrhs23b
Twitter: @Royal2023
CAP, GOWN AND OTHER SENIOR ITEM ORDERING INFORMATION
Seniors had a presentation 8/30 about ordering caps, gowns, announcements and other senior items. They SHOULD have brought home order forms they were given. If they got lost the forms and ordering information can be found at https://herffjoneswestcentral.com/ Herff Jones representatives will be on campus THURSDAY 9/1 from 5:30-7:30 in the Media Center to answer questions and take orders.
SENIOR PHOTOS
N-SCHOOL SENIOR PORTRAITS are now happening. Seniors who just want a headshot for the yearbook can sign up to have it taken in Carlson's room 1-109. These will also be available for purchase. We will provide the tux/drape – for BOYS, just wear a plain white tshirt underneath for sanitary reasons; for GIRLS, wear a tank top that has straps that can drop down the shoulders (see example pic.
This is NOT an excuse to miss class –  seniors, sign up for a time where YOU are free!   FOR YOUR APPOINTMENT TIME SIGN UP HERE
Seniors can also make an appointment at Gigante  – giganteproductions.com to have their senior photos taken at their studio near the Outlet Malls on 56. Sitting price there will be $15. They can visit the Gigante website to see the full offerings.
SENIOR YEARBOOK DEDICATIONS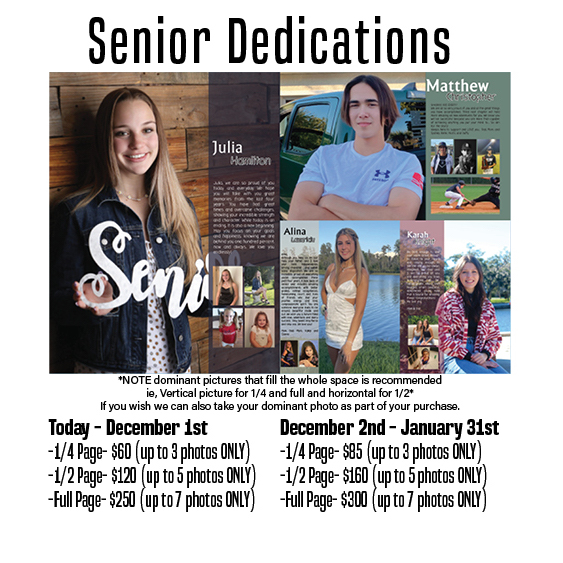 Senior Dedications are NOW FOR SALE! We have shifted to do everything online, so orders can be made at this link and paid for through Rycor/StudentPay. PLEASE NOTE – to receive the discounted price the FULL order must be submitted (payment, information and photos). Please reach out to Mr. Carlson for any questions/clarification/help.
GRAD BASH
Grad Bash documents coming soon. Grad Bash date is April 22nd. Payment will be $160 in full or Payment #1 ($80) due Feb 10 and Payment #2 ($80) due March 10
Time to Save!
Senior year can be expensive! Here are some estimates on costs so you can start planning ahead:
• Parking spot $40
• Paint your parking spot $50
• Cap and Gown $30
• Senior fees (diploma, diploma cover, USF rental, medallion, academic cords, senior breakfast) $90
• Yearbook $70
• Prom $85
• GradBash $150
**These are just estimates based on what they have cost in the past, but gives you an idea.**