CLASS OF 2021
WELCOME TO THE INFORMATION PAGE
OF THE CLASS OF 2021
Administrator – Jessica Meek
Counselor – Kristina Wilson
Sponsor – Barb Dukeman
Follow the class on REMIND by texting 81010 and entering the message @21anddone
SENIOR PHOTO INFORMATION
For seniors who wish to have a photo included in the yearbook they MUST be taken by one of the official photographers – the yearbook staff or Gigante Productions.
AT SCHOOL – The sitting fee on campus will be $5, and students can order these photos online. Students MUST book a session ahead of time at one of the following links:
ALSO – seniors must complete this online information form before they attend the photo session.
For the in school session for a dress shirt, bowtie and jacket will be provided, but students should come with a white t-shirt to wear under the dress shirt. There will also be a drape available – for this students MUST come with a tank top or something similar where the straps can be pulled down for the bare shoulders for the drape photo. Enter through room 1-115.
Should a senior wish to go to the Gigante Studio, that is also an option. It is about an hour away from campus in the Wesley Chapel area, and they do have a sitting fee of $15 for photos done there. Seniors can have a more diverse photo session, but, again, the only required photo is the standard tux/drape yearbook photo. These sessions may be booked directly with Gigante at giganteproductions.com
FOR STUDENTS WHO ARE CURRENTLY TAKING MYSCHOOLONLINE  – Mr. Carlson's studio has door directly to the parking lot should students wish to come during the school day, so an appointment can be made for a senior wishing to come on campus just for that photo – it can be done with social distance, and without having to actually enter any other part of campus. 
And for those asking – the ONLY photo the yearbook needs in the senior section is the tux/drape one – all other senior photos (including those in the dedications) can be taken by any photographer.
SENIOR DEDICATION INFORMATION
DOWNLOAD THE SENIOR DEDICATION ORDER FORM HERE
Parents – shout out to your graduate in the 2021 Excalibur Yearbook with a Senior Dedication. For the 10th year in a row there is no price change, with an extra discount for early orders. Download the form above for full information, and for ease this year all payments are to be made through ACORN. Email Mr. Carlson with any additional questions/for more information.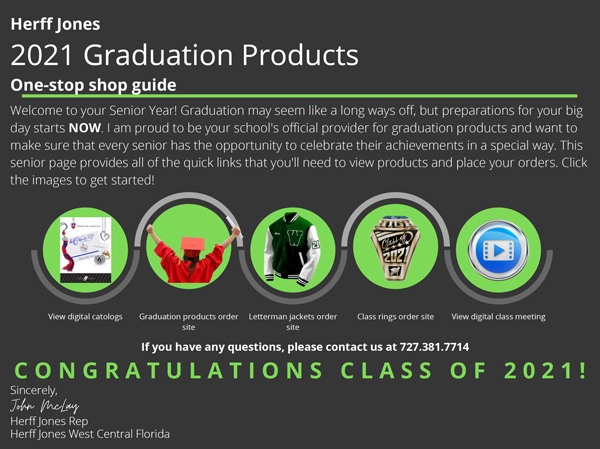 SENIOR PRODUCTS
Click on the following links to learn more information about each of the products mentioned: