WELCOME TO THE INFORMATION PAGE
OF THE CLASS OF 2020
Administrator – Ron Bruno
Counselor – Andrea Makris
Sponsor – Amanda Walter
STUDENT COUNCIL OFFICERS
President – Marc Flores
Secretary – Theresa Smith
Historian – Alanna Yeo
Representatives – Autumn Bowman, Haneen Hassan
SENIORS – KEEP IN TOUCH – As many of you will have classes off campus throughout the day, the responsibility falls on YOU to stay updated on your Class of 2020 information. Bookmark/follow these for your important info: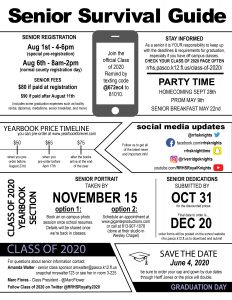 SENIOR SUPERLATIVE VOTING & SENIOR QUOTES
riverridge.voting4schools.com is the site – login using your SENIOR student number and password and vote until Thursday, January 30th
CLICK HERE to submit your Senior Quote. These are DUE MONDAY, FEBRUARY 10th
GRAD BASH INFORMATION
Grad Bash tickets are now on sale. You can pay in full, which is $120. Or you can pay two payments of $60, but in order to have the option, you must pay by your first payment by February 3rd.  All payments are due March 9th. If you do not pay the total amount by March 9th, you will not be able to attend. Simply turning in your permission slip does not guarantee you seat. You must turn in both payment and permission slip to reserve your spot.
Option #1: Payments
Payment 1 $60 due by February 3rd
Payment 2 $60 due by March 9th
Option #2: Pay in full
Payment $120 due by March 9th
Payments can be made as cash, check, or credit card to Mrs. Walter or online through ACORN. All payments and a permission slip must be submitted my March 9th, 2020.
PROM INFORMATION
Prom Timeline
March 13 – Permission slips available on website
March 27 – Guest slips due
Ticket sales:
April 13-17   $80
April 20-29   $90
April 30-May 1  $100
SENIOR YEARBOOK DEDICATIONS
We're happy to announce that for the 7th year in a row we have not increased the price of these senior dedications, and once again are offering a further discount if you order by October 31st.
DOWNLOAD THE SENIOR DEDICATION FLYER HERE
CAP/GOWN/ANNOUNCEMENTS
Herff Jones came in to share with seniors information about how to order caps, gowns, announcements and other senior products. A summary of the presentation is in the video above. There will be ON CAMPUS ordering on October 15th from 6-8pm and October 16th during lunches. The company will be on campus to take the orders and answer more individual questions. Again – this is a contracted company handling the orders and the school cannot deal with any of these orders directly, so these are your best opportunities to order.
SENIOR PORTRAITS
Senior Portraits have been COMPLETED.
SENIOR FEES
SENIOR FEES = $90
Senior Fee Discount: Pay your fees at RRHS Registration on August 1st or August 6th, or through ACORN before August 11th at a discounted rate of $80.
Senior Fees DO NOT INCLUDE A CAP and GOWN purchase. You must purchase this separate through the Herff Jones company – there will be an assembly Aug 28th with all the ordering information.
They can be paid via ACORN, and we will accept a check, cash, or CCARD.  Senior Fees must be paid by May 1st. If fees are not paid, you will not be permitted to go to the senior breakfast. Please see Mr. Bruno (senior class administrator) or Mrs. Walter (senior class sponsor) if you have any questions or concerns with student fees or anything else related to the 2019-2020 graduation.
Senior Fees cover the following senior class expenses:
Rental facilities at USF
Graduation diplomas, printing, covers
Medallions
Graduation programs
Decorations
Laude cords
Class gift to school
Senior Breakfast
Val/Sal/President gifts and medallions
Senior Class Scholarships
Graduation kits
SENIOR EXPENSES
Please note, senior year is EXPENSIVE, with numerous costs for River Ridge senior activities, college applications and other regular life expenses. Here is a link to a general list of costs (obviously these vary per person) – you'll notice that if you pay early for things such as senior fees, yearbook, homecoming or prom tickets, etc, you'll save money. These are general idea of expenses, not exact details.
IMPORTANT DATES
A much more detailed calendar will be forthcoming, but some key dates that are set:
Introductory Senior Meeting with Herff-Jones – August 28th
Homecoming – September 28th
Prom – May 9th @ Innisbrook
Senior Breakfast – May 22nd
Graduation – June 4th at Yuengling Center