WELCOME TO THE INFORMATION PAGE
OF THE CLASS OF 2019
Administrator – Heather Ochs
Counselor – Kristina Wilson
Sponsor – James O'Leary
STUDENT COUNCIL OFFICERS
President – Corina Chester
Vice-President – James Arnold
Secretary – Ashley Taylor
Historian – Peyton Krimmel
Representatives – Sarah Giber, Michael Kiwala, Grace Schneider, Cassandra Smith, Megan Taylor
_______________________
SENIORS – KEEP IN TOUCH – As many of you will have classes off campus throughout the day, the responsibility falls on YOU to stay updated on your Class of 2019 information. Bookmark/follow these for your important info:

Bookmark this page as it will be the central hub of everything senior-related throughout the year.
QUESTIONS? Contact your Class Sponsor Mr. O'Leary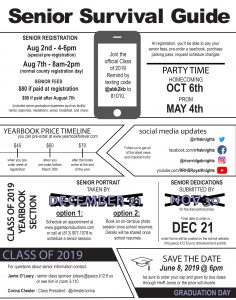 CLICK TO ENLARGE 
PROM 2019
Visit PROM CENTRAL to get all of your prom information and forms.
GRAD BASH
Information and permission forms for Grad Bash can be found by downloading these forms. Grad bash tickets go on sale Tuesday, 1/15 and end Wed, 2/6 in O'Leary's room, 3-110. You can also pick up permission forms from your English teacher, the front office, or O'Leary's room. The cost will be $140, which includes the bus and Universal admission. NOTE – the DRESS CODE IS SET BY UNIVERSAL AND WILL BE ENFORCED BEFORE WE LEAVE as you will NOT be allowed in the park if you're against their code as they are STRICT about it – https://universalorlandoyouth.com/pdf/Grad-Bash-Dress-Code.pdf 
SENIOR THOUGHTS
For those of you wondering about senior quotes, we have good news. There will be more space available for you to share your thoughts, give thanks, or preserve other memories (now up to 250 characters).  Only names will go under senior photos while the pages surrounding will be dedicated to Senior Thoughts. This is to give a greater opportunity to students who wish to have a senior quote, thank family/friends/teachers, and/or shout out to friends an opportunity to be in the book without being alongside the excessive "Congratulations Class of 2019" under those who choose not to as in years past.
These Senior Thoughts will be due Monday, February 4th by 8am .  USE THIS LINK TO SUBMIT
REGISTRATION INFORMATION
Senior fees, which cover expenses such as graduation (venue, diploma, medallion, etc), and senior breakfast, will be $80 through August 7th. After August 7th fees will be $90. These fees do NOT cover the cost of cap/gown. Information for caps/gowns, senior announcements and other senior gear will be presented to seniors during the first quarter.
SENIOR PORTRAITS
Senior Portraits will be available on campus this year for seniors who only wish to have a yearbook headshot taken. Should students wish for a full senior photo package with additional poses they can still book through giganteproductions.com Headshots for the yearbook will be offered from now through December 21st for just a $5 sitting fee. These prints will be available for purchase through Gigante (instructions will be provided).
The on campus option is meant to maximize convenience for students. If a senior takes a headshot for the yearbook on campus they may also still book a full personality package at Gigante after December if they wish.
IMPORTANT POINTS TO REMEMBER:
Cost is just $5 (exact change or check)
Boys – shirt, tie and tux jacket are provided, a basic WHITE tshirt to wear under that will make things easier
Girls – black drape is provided – it is MUCH more convenient if you wear a tanktop
BE ON TIME
BOOK EARLY – we cannot fit everyone in the final days…
Appointments are to be made in person with Mr. Carlson in 1-115, and run from 7:15-2:25 each day. Students should NOT book times that take them out of classes.
SENIOR DEDICATIONS
For parents wishing to include Senior Dedications in the yearbook you can DOWNLOAD THE ORDER FORM HERE.
CAP, GOWN & OTHER SENIOR PRODUCT INFORMATION
IMPORTANT DATES
A much more detailed calendar will be forthcoming, but some key dates that are set:
Homecoming Dance – October 6th
Prom – May 4th @ Kapok Event Center
Graduation – June 8th @ 6pm at Yuengling Center (formerly USF Sundome)
SENIOR EXPENSES
Please note, senior year is EXPENSIVE, with numerous costs for River Ridge senior activities, college applications and other regular life expenses. Here is a link to a general list of costs (obviously these vary per person) – you'll notice that if you pay early for things such as senior fees, yearbook, homecoming or prom tickets, etc, you'll save money. These are general idea of expenses, not exact details.