Year-End Senior Events & Graduation Guidelines
DOWNLOAD THIS INFORMATION AS A PDF
Congratulations on your upcoming graduation! We are giving you the following guidelines and information so that graduation will be a proud memory for all graduates. While we hope it does not become necessary, diplomas may be pulled for any student not following school rules throughout the rest of the year as well as the guidelines set forth here at any point prior to and including the graduation ceremony.
Graduation Status
Students will be informed by their guidance counselor if their graduation status changes. If a student is no longer eligible to graduate per the standards set by the State of Florida and the School District of Pasco County, then he/she will not be able to participate in the May graduation ceremony.  We thank you in advance for your cooperation in making our graduation ceremony a memorable event for our graduates and their guests. If you have any questions regarding graduation, please contact Mr. Bruno at (727) 774-7214 or email rbruno@pasco.k12.fl.us.
Shout Outs
A Shout Out message is a special message to congratulate students who are graduating (or messages from the student to their parents). This message will be shown on giant screens in the Sun Dome. These are due to Mr. Bruno by April 28th. Each Shout Out is $25 and is limited to 100 characters. There is a limit of 70 Shout Outs. Get more information and download the form here.
Grad Bash
The seats for Grad Bash have already been purchased and reserved. Seniors who have purchased tickets for the event have already been given the directions. They need to be in the high school bus loop at 4:00 pm on Saturday, April 29. The dress code set forth by Universal will be enforced. You can view the dress code here.
Online Classes Completion
Students who are taking online classes must have assignments and DBAs completed no later than Friday, April 28, 2017 at 11:59pm and exams completed no later than Friday, May 5, 2017 at 11:59pm if they intend to participate in the May 27th graduation ceremony. Please don't wait until the last minute.
Senior Exams & Last Day for Seniors
Senior final exams will be held during the month of May based on the district final exam schedule, ending May 12th. These exams are NOT optional, and not taking them might impact your graduation status. The last official day for seniors is Friday, May 12, 2017. Seniors are not allowed on campus during the week of May 15-19, with the exception of the Awards Night on May 17, 6 pm, in the theater.
Prom
Tickets for prom must be purchased between April 10 and April 28 only. There will be no ticket sales at the door. Prom is at the Airport Marriott in Tampa, May 13, 8 pm. District School Board policies are in effect for this event; failure to follow these policies may keep you from participation in the graduation ceremony. More information and all required forms can be accessed at Prom Central.
Baccalaureate
River Ridge will be joining Fivay, Hudson, and Ridgewood for the Class of 2017 baccalaureate. The interfaith service will be Monday, May 22, at 6:30 pm and held at the Word of Life Fellowship Hall, Harry Bollback Performing Arts Center, 13247 Word of Life Drive, Hudson. Participating seniors will check in at 6:00 pm, and refreshments will be served after the service. You must RSVP by May 12 to bdukeman@pasco.k12.fl.us if you wish to be part of this event. Provide senior's name, and how many guests will be attending.
Graduation Practice & Senior Checkout
The first graduation practice will be held on Tuesday, May 23, 2017 from 8:00am – 10:00am and Wednesday, May 24, 2017 from 8:00am – 10:00am in the theater at River Ridge. NO FOOD OR DRINK IS ALLOWED IN THE THEATER. You must be prompt to practice both days! Attendance on both days is MANDATORY for participation in graduation. Honors cords will be distributed during practice on Tuesday. Senior checkout will be conducted on Wednesday May 24th in the gym immediately following the graduation practice scheduled for that day. Only students who are properly checked out and attend graduation practice both days will be able to participate in the graduation ceremony or receive diplomas.  The administrator in charge of graduation, Mr. Bruno, MUST review and approve any extenuating circumstances. Students must be dressed according to the Pasco County School District Dress Code. Students will be sent home to change if they are out of dress code and this may jeopardize their participation in graduation.
Caps and Gowns
Caps and gowns will be distributed during senior checkout. A Herff Jones rep will be on hand for any problems. A cap decorating party will be held in 5-210 directly after checkout on Wednesday, May 24. Hang the gown for a couple days prior to the graduation ceremony to minimize the amount of wrinkles. Do NOT iron the gown as the material will melt. Do NOT wash the gown.
Senior Breakfast
All seniors are invited to attend the annual Senior Breakfast that will be held on Thursday, May 25, 2017 at Spartan Manor at 8am.  The address is 6121 Massachusetts Ave, New Port Richey, FL, 34653. This event is included in senior fees and needs no ticket. Students will be required to dress in business casual attire. This would include dress pants or khaki pants, dress shirt with tie or collared polo, socks and closed-toe dress shoes for boys. For girls, a dress/sundress or blouse with skirt or pants. Jeans, shorts, shirts without a collar, sneakers, and flip-flops will not be permitted, and students will be sent home to change if they come to the event dressed in this manner. Event ends at 10:00 am.
Ceremony
The graduation ceremony will be held on Saturday, May 27th at 7:30pm.  It will begin promptly at 7:30pm. Seniors are to report at 6:30pm to the University of South Florida Sun Dome in Tampa in order to sign in and line up for the ceremony. Please follow the signs upon entering the University of South Florida Sun Dome, as they will direct students and guests to the areas in which they should go. Parking is $5 (cash only). Students should enter at the Corral, which is to the left of Gate A. Leave your personal belongings with a family member. Security will do a visual search and wand all of the graduates entering Sun Dome. All bags and purses will be searched. No backpacks will be permitted in the Sun Dome. You can get directions to the Sun Dome here, or you can download a parking map here.
Dress for Graduation
Males: Dark dress pants, dress shirt & tie, socks & closed-toe dress shoes (no sneakers, sandals, flip flops, etc).
Females: Dress/sundress or blouse with skirt or pants. Dress shoes or dressy sandals (no sneakers, flip flops, etc.). Flats are acceptable. We recommend that girls wear sensible heels, as there will be a lot of walking and stair climbing.
Both: Leave purses, cameras, and personal items with a parent or friend in the audience; they may not be taken in during the processional.  Flowers or corsages are NOT permitted.
Graduation Gowns: Please carry your cap and gown on your arm into the Sun Dome (i.e. don't wear them in). We will not have extra gowns on hand. Make sure that you bring yours to the ceremony.
Graduation Cap: The mortarboard (graduation cap) is to be worn flat with the tassel over the right eye.  Once the seniors are declared graduates, the tassel is moved to the left side in unison with the class. All cap decorations are subject to inspection at any given time. A new cap will be assigned if there is any inappropriate material or subject matter on the cap. We will have limited caps or tassels on hand, so please make sure you decorate your cap with this in mind. You cannot graduate without a cap. Please make sure that you bring yours to the ceremony. Failure to comply with any part of the dress policy may result in the student not being permitted to participate in the ceremony.
Behavior
Graduation is a momentous occasion not only for the seniors, but also for their parents, families, and friends.  For that reason, the ceremony is to be held with dignity and courtesy to others.  All participants are expected to conduct themselves in a manner appropriate for the occasion, which includes walking across the stage.  All participants must comply with the Pasco County Student Code of Conduct. Inappropriate behavior will result in both students and parents/guardians having to meet with the school administration prior to receiving a diploma.
Improper noises and distractions will not be permitted. This includes, but is not limited to, noisemakers such as bullhorns, air horns, whistles, cowbells, and firecrackers, etc.; visual distractions such as signs, balloons, streamers, etc.  Do NOT bring in beach balls, silly string, or any item that would be deemed inappropriate. We ask that you request family and friends to remain seated throughout the ceremony, except when it is appropriate to stand (during the Pledge of Allegiance, for example), as a courtesy to other graduates and their families and friends. No one, other than graduates and designated guests, is permitted in the seating area for graduates or in the Corral prior to graduation.
Anyone under the influence of alcohol or drugs will not receive his/her diploma and/or will be turned over to appropriate law enforcement officials. As this is a School District of Pasco County event, alcohol will not be permitted inside of any of the areas in the University of South Florida Sun Dome dedicated to the graduation ceremony.
Traffic to and Parking at the USF Sun Dome
Please be advised that the time of arrival for the graduation ceremony for students (6:30PM) will coincide with early evening traffic that is heavy based on the location of the USF Sun Dome. Please plan appropriately when leaving your homes and give yourself more than enough time to arrive without incident. Once students and staff have left for the beginning of the ceremony, the students will not be permitted to enter into the seating area for graduates (i.e. don't be late to graduation). This is University of South Florida Sun Dome's security policy and will be strictly enforced. There is a $5.00 charge for parking. There are parking areas throughout the areas around the University of South Florida Sun Dome. Disabled parking is located at Gate A and Gate D, Parking Lot Area 22F. The address is 4202 E. Fowler Avenue, Tampa, FL, 33620. You can get directions to the Sun Dome here, or you can download a parking map here.
Seating & Tickets
Security will do a visual search and wand all guests to the USF Sun Dome. All bags and purses will be searched. No backpacks will be permitted in the Sun Dome. Cameras/binoculars must be out of their cases – cases need to be left in the car.  Seating is unlimited in the University of South Florida Sun Dome, and tickets are not necessary. No one, other than graduates and designated guests, is permitted on the USF Sun Dome floor. Floor seating is only permitted for invited dignitaries, graduating seniors, band members, faculty and staff, and other invited guests. All of these people will have tickets in order to go to the floor and will be listed on pre-approved lists provided to the USF Sun Dome. Those who need handicapped seating would be advised to enter in at Gate A, where there are elevators available. There is handicapped seating available throughout the Sun Dome. There is also reserved seating for the hearing impaired; please contact Mr. Bruno if you have hearing impaired guests attending graduation. Concessions in the Sun Dome will be open before the ceremony begins. Food and drink can be purchased for guests only.
Photography
Gigante Productions (813-907-1078) will photograph each senior individually upon receiving his/her diploma and congratulations from the principal, as well as with their diplomas. Purchase of these photographs is optional. Gigante Productions will notify seniors via mail when the pictures are ready, and all questions regarding these pictures should go to Gigante Productions. Please make sure that your address is correct with River Ridge High School, as that is the address that we will provide to Gigante Productions. River Ridge High School does not receive any of these pictures or information following graduation.
Diploma Distribution
Diplomas will be available after graduation, in the hall just outside the Corral. Students who have officially checked out will be able to receive their diplomas and participate in graduation. Only students meeting the behavioral requirements at graduation will receive a diploma.
After receiving your diploma, please exit the University of South Florida Sun Dome. We recommend having a pre-arranged meeting place set with your family.
Lost and Found
Any items left behind from graduation will be kept in a box at student services, and will be available May 30 and 31.
THE CLASS OF 2017 IS SETTING THE NEW STANDARD
WHICH ALL OTHER CLASSES WILL FOLLOW. 
LET'S LEAD THE WAY!
SENIORS – KEEP IN TOUCH
As many of you will have classes off campus throughout the day, the responsibility falls on YOU to stay updated on your Class of 2017 information. Bookmark/follow these for your important info:

Bookmark this page as it will be the central hub of everything senior-related throughout the year.
TWITTER – @rrhsknights
FACEBOOK – facebook.com/rrhsknights
INSTAGRAM – @rrhsknights
REMIND TEXTS – Text @perfect17 to 81010 to get text updates on class activities
QUESTIONS? Contact your Class Sponsor Mrs. Dukeman bdukeman@pasco.k12.fl.us
SENIOR PHOTO INFO –

DEADLINE HAS PASSED
CAP & GOWN, ANNOUNCEMENTS INFO
On September 15th the senior class had a meeting where information about caps & gowns, announcements, and other senior-related products was distributed. Additional copies of these brochures are available in the front office, or in Mrs. Dukeman's room 3-102. This information is also available through highschool.herffjones.com. We HIGHLY advise ordering early to avoid steep late fees set by the vendor.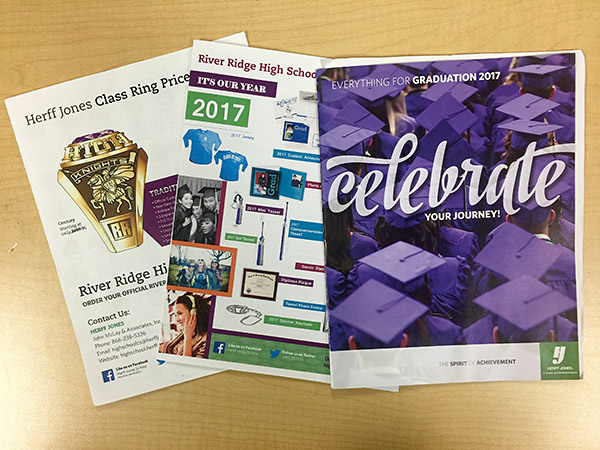 IMPORTANT DATES (some tentative)
Sept 12                       FSA and EOC retakes
Sept 12                       UCF Rep 8:15 in Media
Sept 14                       FSU Rep 12:00 in Media
Sept 15                       Senior meeting, Herff Jones, theater, periods 2 -3
Sept 16                       UF Rep 11:15 in Media
Sept 16                       Open House, 5-6:30
Sept 16                       Progress reports come out
Sept 19                       Nova Southeastern Rep 11:15 in Media
Sept 20                      Mandatory Powder Puff Meeting 2:00 in 3-102 WITH permission forms
Sept 20                      College and Career Readiness 6pm in Theater
Sept 21                       Herff Jones on campus to collect Cap & Gown fees 6pm in cafeteria
Sept 22                      Herff Jones on campus to collect Cap & Gown fees durin all lunches in cafeteria
Oct 4                           FAU Rep 12:30 in Media
Oct 3-7                       Homecoming Week
Oct 7                           Homecoming Game
Oct 8                           Homecoming Dance, 7-11 (Semi-Formal is OK)
Oct 10                         FCAT/FSA retakes
Oct 14                         End of quarter 1
Oct 15                          FSU Appliction Deadline
Oct 17                         No School:  Teacher Planning Day
Oct 20                         ASVAB Test
Oct 24                         Report cards come out
Oct 26                         Trick or Treat Around The Track
Oct 31                         Halloween
Nov 5-6                      Daylight Savings end; turn clocks back
Nov 8                          Election Day
Nov 11                        Veterans' Day
Nov 18                        Progress reports come out
Nov 19-27                  Thanksgiving break
Nov 21&22                 Hurricane Make up days if needed
Nov 28                        EOCs begin
Dec 19-22                 Semester Exams
Dec 22                        End of semester I
Dec 23                        Teacher Planning
Dec 24-Jan 8             Winter break
Jan 9                           Beginning of Semester II
Jan 16                         No School:  Dr. Martin Luther King Jr Day
Jan 17                         Report Cards come out
Feb 10                        Progress reports come out
Feb 14                         Valentines' Day
Feb 27                        FSA Writing
March 11-12              Daylight Savings begins:  Turn clock ahead
March 16                   End of quarter 3
March 17                   No school:  Teacher planning day
March 18-26             Spring Break
March 27                   FCAT/FSA Retakes
April 3                        Report cards come out
April 28                     Progress reports
April 28                     ALL ONLINE WORK/DBA's DUE
April 29                     Grad Bash at Universal – be at school @ 4pm
May 1-5                      Teacher Appreciation Week
May 1-12                    AP Exams
May 1-12                    District Finals
May 5                         ALL ONLINE TESTS must be completed
May 12                       Seniors' Last Day
May 13                       Prom
May 15                       Make Up Date for Seniors' EOC (if missed)
May 23                      Grad practice, Theater, no food/drinks allowed!) , 8-10 am. MUST BE PROMPT! Seniors must leave campus after practice!

May 24                           Grad practice, Theater, no food/drinks allowed!) , 8-10 am. MUST BE PROMPT! At graduation practice, seniors will get their honors cords for GPA: 3.2-3.79=purple    3.8-4.19=silver   4.2+=white

May 24                     Senior checkout AFTER PRACTICE
May 24                       Cap Decoration AFTER CHECKOUT
May 25                        Senior breakfast, Spartan Manor, 8-10 am
May 26                       Last Day of School for all other grades
May 27                       Graduation, 7:30, USF Sundome (Be there in the Corral by 6pm)
May 29                       No School – Memorial Day
May 30-31                 Teacher Planning Days
June ?                         Final report cards come out