WELCOME TO THE INFORMATION PAGE
OF THE CLASS OF 2019
Administrator – Heather Ochs
Counselor – Kristina Wilson
Sponsor – James O'Leary
STUDENT COUNCIL OFFICERS
President – Corina Chester
Vice-President – James Arnold
Secretary – Ashley Taylor
Historian – Peyton Krimmel
Representatives – Sarah Giber, Michael Kiwala, Grace Schneider, Cassandra Smith, Megan Taylor
_______________________
SENIORS – KEEP IN TOUCH – As many of you will have classes off campus throughout the day, the responsibility falls on YOU to stay updated on your Class of 2019 information. Bookmark/follow these for your important info:

Bookmark this page as it will be the central hub of everything senior-related throughout the year.
QUESTIONS? Contact your Class Sponsor Mr. O'Leary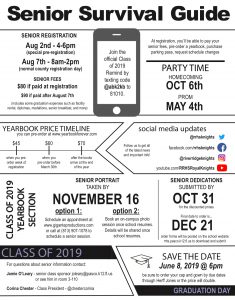 CLICK TO ENLARGE OR DOWNLOAD THIS GUIDE AS A PDF
REGISTRATION INFORMATION
Early registration for seniors will be held August 2nd from 4-6 pm in the GYM. Regular county-wide registration will be held August 7th from 8-2. At either time students can pay for senior fees, any special class fees. Students can also order yearbooks (special $45 registration rate) and pay for parking ($30).
Senior fees, which cover expenses such as graduation (venue, diploma, medallion, etc), and senior breakfast, will be $80 through August 7th. After August 7th fees will be $90. These fees do NOT cover the cost of cap/gown. Information for caps/gowns, senior announcements and other senior gear will be presented to seniors during the first quarter.
SENIOR PORTRAITS
To be included in the yearbook seniors MUST have their photo taken through Gigante Productions Studios OR – new this year – at school during selected dates. Either way portraits MUST BE TAKEN BY NOVEMBER 16th to be included in the yearbook. To book a studio session at Gigante contact them through giganteproductions.com More information about the in-school sessions will be posted once details are finalized.
SENIOR DEDICATIONS
For parents wishing to include Senior Dedications in the yearbook more details will be forthcoming once school resumes. Check back here for order forms.
IMPORTANT DATES
A much more detailed calendar will be forthcoming, but some key dates that are set:
Homecoming Dance – October 6th
Prom – May 4th @ Kapok Event Center
Graduation – June 8th @ 6pm at Yuengling Center (formerly USF Sundome)
SENIOR EXPENSES
Please note, senior year is EXPENSIVE, with numerous costs for River Ridge senior activities, college applications and other regular life expenses. Here is a link to a general list of costs (obviously these vary per person) – you'll notice that if you pay early for things such as senior fees, yearbook, homecoming or prom tickets, etc, you'll save money.